Files /
Spiele /
Vega Strike /
< < < zurück zur Seitenübersicht
Vega Strike 0.5.0 - Windows Release
User Bewertung
(Noch keine User Bewertung erhalten.)
| | |
| --- | --- |
| Autor | Vega Strike |
| Größe | 424 MB |
| Downloads | 70 |
| Bewertungen | 0 |
| Kommentare | 0 |
File Bewerten
Kommentar schreiben
Sreenshots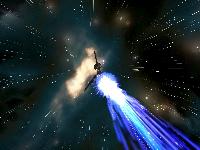 Note: If you get any errors that sound like "reinstall the application", "the runtime asked to terminate the application", or "the application was not configured properly", then open up the folder you installed into, open "bin", and double-click/run the "vcredist_x86" program as Administrator. This problem seems to especially affect some Vista users.
Artikel / News Übersicht zum Thema: Vega Strike
Dateiname: vegastrike-0.5.0.rar
Eingefügt am 24.11.2009 um 15:30 Uhr
Kommentare
Noch keine Kommentare vorhanden.
Kommentar verfassen
Um ein Kommentar schreiben zu können musst du dich einlogen.