Files /
Spiele /
Microsoft Flight Simulator 9 | FS 2004 /
< < < zurück zur Seitenübersicht
Airbus A380-800 Butterfly
User Bewertung
(Noch keine User Bewertung erhalten.)
| | |
| --- | --- |
| Größe | 2 MB |
| Downloads | 83 |
| Bewertungen | 0 |
| Kommentare | 0 |
File Bewerten
Kommentar schreiben
Sreenshots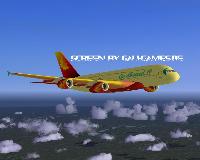 A380-800 paint by MONTABORD Miguel
==========================
FS2004/FSX A380-800 Butterfly. I have spent great amount of time to provide you with the most acurate paint along with realistic shadow, shine and reflective effects, Featuring 32bit Highly Detailed graphics with night light effects,The model includes all the usual things as a steering nosewheel, taxi and landing lights, dynamics shine and all moving parts, including a fully animated landing gear animation. Some special things include three opening doors, with visible interior. Flexing wings, wing views and trim animation for the horizontal stabilisers.
Included are default panel and sound.
Original model by Robert Versluys. Thank's to Robert Versluys for his great work !
Paint by MONTABORD Miguel.
"Air-Butterfly" is my virtual airline company.
Installation
=======
Just unzip this file into your FS2004/aircraft  (or your FSX/Airplaines) folder.
Happy flights !
Dateiname: a380_800_Butterfly.rar
Eingefügt am 30.03.2009 um 23:20 Uhr
Kommentare
Noch keine Kommentare vorhanden.
Kommentar verfassen
Um ein Kommentar schreiben zu können musst du dich einlogen.